Gabions are rectangular baskets fabricated from a hexagonal mesh of heavily galvanized steel wire, filled with rock and stacked atop one another to form a gravity-type wall. Gabions depend mainly on the interlocking of the individual stones and rocks within the wire mesh for internal stability and their mass or weight to resist hydraulic and earth forces. This porous structure can sometimes be vegetated.
---

Maccaferri
Maccaferri gabions are cages which are engineered from double twisted hexagonal woven steel wire mesh. Delivered flat-packed, our cages are assembled and then filled with stones at the project site. There are numerous uses for these modular units and are typically used to form flexible, permeable and monolithic structures such as retaining walls, channel linings, hydraulic control structures and erosion protection. They are increasingly being used in architectural applications as well. Maccaferri gabion baskets are made from high-quality steel wire, which is heavily galvanised. An additional protective polymeric coating is also applied for gabions that are to be used in more aggressive environments, or where a longer design life is required.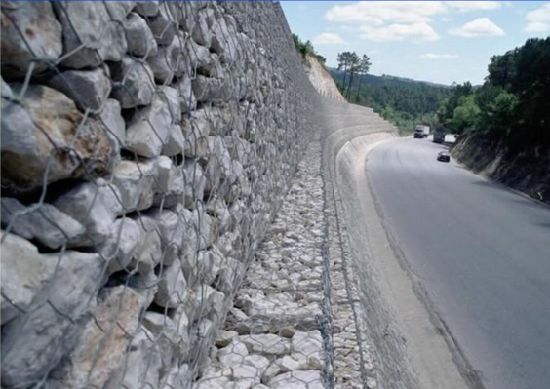 Woven Wire
These flexible, permeable, rock-filled and interconnected modular units create a monolithic wall for earth retention or a blanket for soil stabilization, providing the civil engineer a unique building material that aesthetically blends that sheared-rock look into its natural environment. They are successfully applied to various rough conditions such as gabion retaining walls, gabion fences, gabion channels and more.